StarLink, the largest "True" Value-added Distributor in META region, is recognized as the Trusted Cyber and Cloud Advisor with presence in 20 countries, carrying a cutting-edge portfolio of 45+ technology vendors & an expert workforce of 375+ employees, with a revenue of $500m.
StarLink Solutions Lifecycle
Is my sensitive data well protected?
Data Loss Prevention, Database Security, Endpoint Detection & Response, Advanced Threat Protection, Next-gen Firewall, Web & DNS Security
How can I protect my sensitive data?
Enterprise Security, Cloud Security, DLP, Data Encryption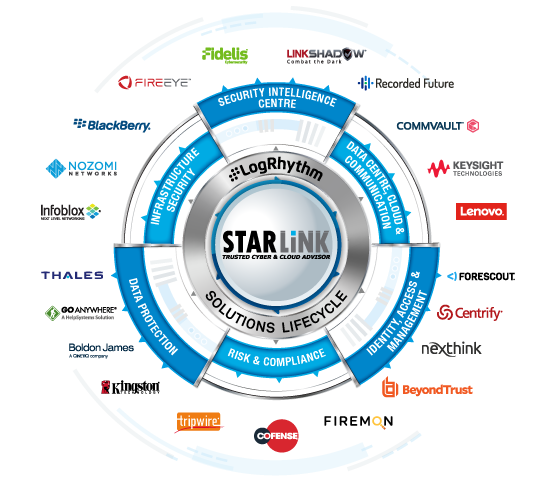 Is my sensitive data at risk?
Date Compliance, Anti-Phishing, Policy Compliance, Patch Management, File Integrity Monitoring, Vulnerability Management
Is my Sensitive Data optimized?
Application Performance, Turnkey Hyperconvergence, Network Visibility
Where is my Sensitive Data?
Data Monitoring & Security, Data Classification, Enterprise Certificate Management
Has my Sensitive Data been breached?
Behavioural Analytics, Next Generation Endpoint Security
Redefining Success. Creating a Legacy.
"We are StarLink"
We're not the only ones

excited

happy

about StarLink...
Meet our customers.