StarLink, the largest "True" Value-added Distributor in META region, is recognized as the Trusted Cyber and Cloud Advisor with presence in 20 countries, carrying a cutting-edge portfolio of 45+ technology vendors & an expert workforce of 375+ employees, with a revenue of $500m.
StarLink Solutions Lifecycle
Where does my sensitive reside?
Workspace Virtualization, Hyperconverged Infrastructure, IT Services & Operations Management, Backup & Recovery, Power & Cooling, Servers & Storage
Do I have the security controls & services in place, to manage my data?
Security Operations Center, Threat Intelligence MGT, Identity Management, Network Operations Center, Hybrid IT Management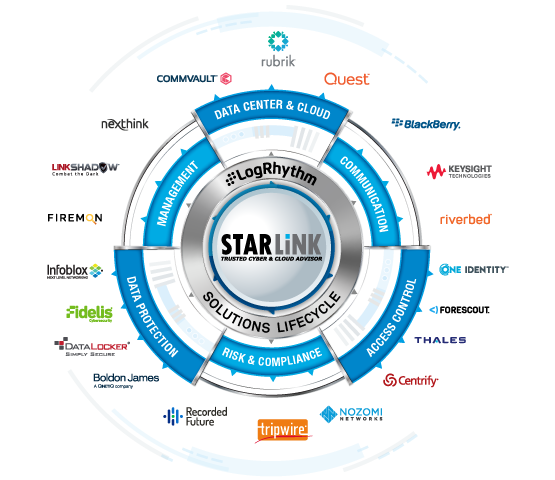 Is my sensitive data well protected?
Data Loss Prevention, Database Security, Endpoint Detection & Response, Advanced Threat Protection, Next-gen Firewall, Web & DNS Security
Is my sensitive data at risk?
Date Compliance, Anti-Phishing, Policy Compliance, Patch Management, File Integrity Monitoring, Vulnerability Management
How does my sensitive data commute?
Application Performance Management, Unified Communication, Visibility & Testing, Application Delivery Controller, Switching & Routing, Wireless
How is my data accessed, and by whom?
Enterprise Mobility Management, Unified Access Control, Multi-factor Authentication, Single sign-on, Privileged Access, User Provisioning
Redefining Success. Creating a Legacy.
"We are StarLink"
We're not the only ones

excited

happy

about StarLink...
Meet our customers.