Register Now
---
StarLink IT Security Roadshow, in its 7th year running is a must-attend annual conference for all IT Security professionals looking to prevent major data breaches by reducing time to detect and respond to threats. The Roadshow will be hosted across Kuwait, Bahrain, KSA, Oman, Egypt, Qatar, South Africa, Turkey & UAE.
Globally, sophisticated cyber-attacks are compromising organizations at an unprecedented rate and with devastating consequences. These attacks are often very expensive for affected organizations.
Traditional prevention-centric strategies are no match for today's advanced, motivated threat actors. A new approach is required to empower your security operations!
Threat Hunting and Analysis - a fundamental end-to-end detection, visibility and response capability, enabling organizations to see broadly and deeply across the entire IT environment for rapid mitigation and recovery from security incidents.
Attend this exclusive event alongside enterprise and government CISOs, CIOs and IT Security decision-makers to understand more about the latest trends, technologies and best-practices to face this new era of cyber threats.
Please register soon, to reserve your seats as space is limited.
We look forward to welcoming you at the event, in your city.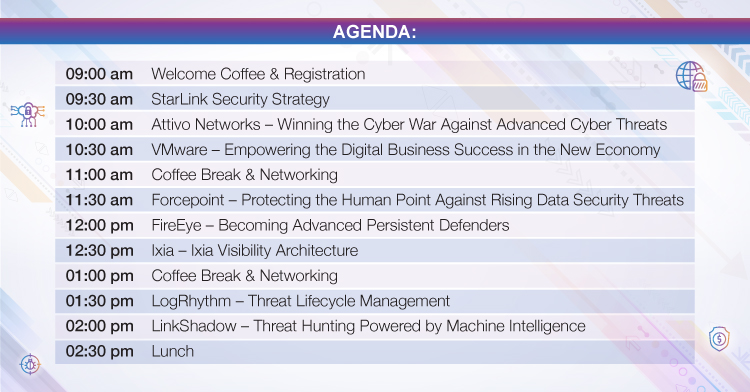 Kuwait City, Kuwait
April 2, 2017
9 am to 3 pm
Venue:
Al Thuraya Main & A,
JW Marriott Hotel
Manama, Bahrain
April 4, 2017
9 am to 3 pm
Venue:
Al Ghazal Ballroom 1 & C,
The Ritz-Carlton Bahrain
Riyadh, KSA
April 10, 2017
9 am to 3 pm
Venue:
The Symposium,
The Ritz-Carlton Riyadh
Muscat, Oman
April 12, 2017
9 am to 3 pm
Venue:
Ballroom A,
Shangri-la, Barr Al Jissah
Doha, Qatar
April 17, 2017
9 am to 3 pm
Venue:
Al Gassar Ballroom,
The St. Regis Doha
Cairo, Egypt
April 19, 2017
9 am to 3 pm
Venue:
Lake View Hall,
Dusit Thani Hotel Lake View Cairo
Johannesburg, SA
April 24, 2017
9 am to 3 pm
Venue:
Main Station 1 & 2,
Radisson Blu Sandton
Istanbul, Turkey
April 26, 2017
9 am to 3 pm
Venue:
Mabeyn Ballroom,
Ciragan Palace Hotel Kempinski
Dubai, UAE
May 02, 2017
9 am to 3 pm
Venue:
Ballroom A & B,
Armani Hotel Dubai